Welcome to the Minnesota College Athletic Conference Clay Target League!
MCAC member colleges participating in the 2020 fall league will feature hundreds of student athletes during a five-week competition season. Student athletes that have earned their firearms safety certification will compete in a "virtual" trap shooting competition among MCAC member colleges. Competition is conducted at a shooting range near the college and scores are uploaded to the League's website. Conferences are determined by team size and True Team® scoring is used to maximize the number of student athlete scores that are used for the team score. The season culminates with the MCAC Trap Shooting Championship.
2020 Modified Fall Season
Due to the current uncertainty related to COVID-19, MCAC has approved a Modified 2020 Fall Season that will provide the most opportunity for student athletes and teams to participate in a safe environment. Primary Sport Code changes for the Modified Fall Season are:
Extended registration period – allows more time for students to register
Extended season – allows more time for teams to complete competition events
Competition events will be completed at any time during the season – maximum schedule flexibility
Conferences announced at score submission deadline – insures complete participation of teams and athletes
Firearm safety certification extension – complete at any time during the season but prior to participating in events
Firearm safety certification alternative added – USA Clay Target League's SAFE Certification
Virtual MCAC Trap Shooting Championship – each team will compete at their home shooting range
View the 2020 MCAC Clay Target Sport Code for more details.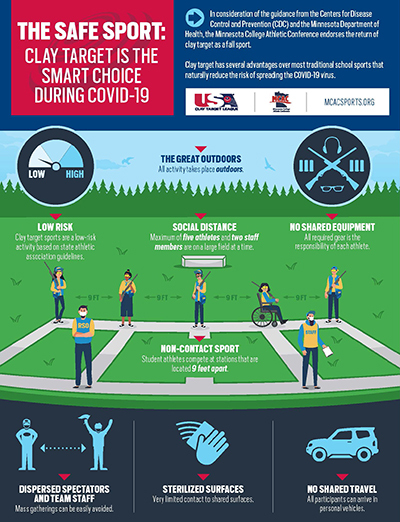 2020 Modified Fall Season Schedule
August 3: Team and student athlete registration opens
August 4: Practice and/or competition (5 total) events may begin after a TEAM closes their athlete registration – a team may select "close registration" in their Team Management System at any time prior to the athlete registration close deadline
September 14: Athlete registration closes
September 15: Practice and/or competition (5 total) events may begin
September 21: Score submissions and Championship athlete registration becomes available in Team Management System (TMS)
October 3: Championship athlete registration closes and season score submission deadline 9 p.m.
October 5: Conferences and Week 1 results published
October 6: Week 2 results published
October 7: Week 3 results published
October 8: Week 4 results published
October 9: Week 5 results published
October 13-14: MCAC Virtual Championship
October 15: Championship results published
October 19: Conference and Championship award shipment begins